Learn More About Southlake Physical Medicine

Tyce and Kellie Hergert celebrate 20 years taking care of patients.
Founded in Southlake, Texas in 2000, Dr. Tyce Hergert, DC and his wife Kellie opened their business as Chiropractic Care Center with just a couple of patients. In 2016, they expanded the practice into a full medical clinic as Southlake Physical Medicine with Nurse Practitioner Philip Talley, FNP. Now they're serving hundreds of patients in a variety of ways they never dreamed possible when they started.

Southlake Physical Medicine was designed to integrate medical and chiropractic care to provide patients with a level of health care that is not found in the traditional medical community. Unlike conventional medicine, which focuses on attempting to treat disease once it occurs, the integrated medical care offered here emphasizes the importance of improving your health in an effort to reduce the risk of pain and illness in the first place. For those patients who may already be in pain, we offer a vast number of treatment options for many types of pain and conditions. Always staying on the leading edge of medical breakthroughs and technology, they continue to bring the latest treatments here to their patients.
Philip Talley, MS, FNPC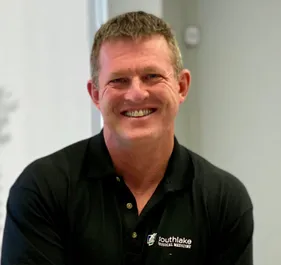 Philip Talley is a Family Nurse Practitioner with over 20 years experience in the medical field caring for patients. Philip's focus is on finding the root of a patient's health problems and then developing an individualized treatment plan to help them achieve the level of wellness that they desire. He uses alternative medicine in conjunction with traditional medicine to provide the greatest possible results for his patients. Philip's medical training includes Regenerative therapy, Hormone Replacement therapy, wellness/preventative medicine, weight loss management and natural supplemental therapies.

Philip earned a Bachelor of Science and Master of Science in Nursing and graduated with honors from Texas Tech Health Science Center in Lubbock Texas. He started his medical career working as a firefighter/paramedic with the Odessa Fire Department in 1996 and as a paramedic on a flight team for Medical Center Hospital. He worked as an RN in the Emergency Department at Odessa Regional Hospital and then as staff nurse, charge nurse and clinical coordinator of the emergency department.
After becoming a Family Nurse Practitioner, Philip worked in Hobbs, New Mexico at Lea County Urgent Care where he dealt with a variety of conditions from acute illnesses to work place injuries. Prior to moving to Southlake, Philip was at Tall City Primary Care in Midland, TX where he was the primary care provider for all ages of patients.
Dr. Tyce Hergert, DC
Dr. Tyce Hergert is a Southlake chiropractor who uses chiropractic care to improve the health and wellness in all areas of patient's lives, whether they are having problems with back pain or neck pain, or just want to start feeling better when they wake up in the morning. Dr. Hergert takes a "whole person" approach to chiropractic care, which means looking for the underlying causes of disease, discomfort, and pain, as opposed to just treating the symptoms. Many seemingly unrelated symptoms often arise from imbalances in the spinal column, and Dr. Hergert will be able to determine the root of the pain and create a personalized chiropractic and wellness plan to suit each patient's individual needs.

Dr. Hergert is past president of the Texas Chiropractic Association which seeks to protect the rights of chiropractors throughout the state. He was educated at the University of North Texas and Parker Chiropractic College and has been a licensed chiropractor since 1998. He holds certifications from the National Board of Chiropractic Examiners, the American Academy of Chiropractic Acupuncture, is a Designated Doctor by the American Academy of Disability Evaluating Physicians and is certified as a Chiropractic Sports Practitioner.
Dr. Hergert has received numerous honors and awards, including:
ACA East Texas Delegate 2020-Present

ACA State Organization Representative 2019-2020

ACA State Affiliate Representative 2018

Fellow International College of Chiropractors 2017

Parker Seminars Chiropractor of the Year 2017

Parker Alumni of the Year 2016

TCA H. Ford Johnson Membership Award 2015-16

TCA President's Award 2013-14

TCA Young Chiropractor of the Year 2012

TCA President's Award 2010-11

TCA CDI Platinum Contributor

TCA CDI 100X100

Kellie Hergert, Clinic Coordinator
Kellie oversees the daily operations of Southlake Physical Medicine. She spends countless hours working with patients to help them navigate their insurance plans and get the most coverage possible for services. An expert at understanding the intricacies of all major insurance companies, she is an invaluable resource to our patients. She studied accounting at the University of Texas at Dallas, performing general accounting, human resources and payroll for four years before joining the team at Southlake Physical Medicine and Chiropractic Care Center.